Protection and safety should be of paramount importance for all service providers that use radiation in their activities. The management system of a service provider using radiation is subject to the requirements and recommendations of all relevant IAEA Safety Standards. According to the requirements of the new International Basic Safety Standards (GSR Part 3), any technical service providers for protection and safety should be qualified by certain procedures. The services provided by technical service providers may be divided into... Full story »

The 2016 symposium addressed the radiation protection control of naturally occurring radioactive materials (NORM), and included the results of new research, explored practical case studies of industrial applications and waste disposal practices, evaluated the practical implication of international and national standards as well as identified new societal needs and technical requirements for regulators and industry on NORM. See the presentations »

The IAEA signed two cooperative agreements to strengthen radiation safety and monitoring with organisations based in Argentina and the United States. The Practical Arrangements with Argentina's Nuclear Regulatory Authority (ARN) modify a 2015 agreement while the Practical Arrangements with the Conference of Radiation Programme Control Directors (CRCPD), a non-profit non-governmental organization in the United States, is dedicated to radiation protection... Full story »

The Regional Meeting will be held in Accra Ghana from 31 October to 4 November 2016. The results of the regional intercomparison exercise on individual monitoring for external exposure will be presented and discussed, the issues on individual monitoring services in the region will be discussed and the approach for future improvement will be proposed... Full story »

The 2nd International Conference on Occupational Radiation Protection: Enhancing the Protection of Workers—Gaps, Challenges and Developments, was held at the IAEA's Headquarters in Vienna, Austria, from 1 to 5 December 2014. As a major outcome, the Occupational Radiation Protection Call-for-Action was identified. It comprises nine key areas of focus requiring global actions. These areas and further information are now accessible in a new brochure produced by the IAEA and ILO. Access the brochure »

The 3rd International Workshop on Occupational Radiation Protection in the Uranium Mining and Processing Industry was organized as one of the IAEA side events associated with the IRPA-14 congress and hosted by the National Nuclear Regulator (NNR) of South Africa. The workshop was the follow-up activity of the second workshop organized in Australia in September 2014 and attended by twelve industry and regulatory authority representatives.... Full story »

The 2nd Consultancy Meeting to Develop Guidance Material Supporting Safety Standards Applicable to the Coal Industry took place on 11- 15 April 2016 at IAEA Headquarters in Vienna, Austria. The first consultancy meeting of this kind was organized in December 2013 with the participation of regulators and industry representatives. The 2nd meeting has extended the background discussions to be used as the driver for the development of the safety report.... Full story »
Ionizing radiation has many beneficial uses, including in medicine, science and industry, but those working with radiation sources as well as the public and environment need to be protected from its harmful effects. The IAEA offers Member States a thorough review through its Occupational Radiation Protection Appraisal Service (ORPAS) to help in the development of a high-level and effective safety infrastructure for those working with radiation. Member States need to have stringent safety standards and practices in place to prevent the risk of accidental workforce-related radiation exposure. The IAEA's Basic Safety Standards and various recommendation documents provide guidance to national authoritie... Full story »
This new publication addresses the protection and safety issues associated with the use of itinerant workers. Such workers are defined for this report as occupationally exposed workers, who work in supervised and/or controlled areas at one or more locations and are not employees of the management of the facility where they are working. It focuses on the necessary communication and cooperation to establish a clear allocation of responsibilities among the relevant parties .... Full story »

The IAEA team of occupational safety experts has conducted an ORPAS mission to United Arab Emirates, an independent appraisal service provided to Member States. The review found that a system to regulate radiation in the workplace is being effectively implemented by FANR. The IAEA team comprised six international and IAEA experts who conducted their week-long review. .... Full story »

The international workshop was the follow-up activity of the 1st workshop organized in Saskatoon, Canada in September 2014. The workshop has extended the background discussions to be used as the driver for drafting the safety report on occupational radiation protection in the uranium mining and processing industry. The workshop was co-sponsored by the Australian Radiation Protection and Nuclear Safety Agency (ARPANSA). .... Full story »

The aim of the meeting was to provide practical guidance and training on occupational radiation protection for workers involved in operations with high occupational exposure including operation and radiation control of a plant, urgent actions at the site. The course was primarily aimed at the core expert group coming from different regions with different experiences.... Full story »

The Practical Arrangements were signed by Mr Denis Flory, the Deputy Director General of the IAEA and by Mr Julián Gadano, the 1st vice-president, on behalf of Mr Diego Hurtado, the ARN President of the Board of Directors, on 18th September 2015 on the sidelines of the 59th General Conference of the IAEA in Vienna. These Practical Arrangements establish the framework for non-exclusive cooperation between the IAEA and ARN. Full story »

The IAEA and the National Radiation Protection Institute, of the Czech Republic (SURO) agreed upon Practical Arrangements on 16 September 2015 in Vienna. Signatories to the Arrangements were Deputy Director General of the IAEA, Mr Denis Flory, and the Director of SÚRO, Mr Zdenek Rozlívka. The Practical Arrangements set forth the framework for cooperation between the IAEA and SURO in the area of radiation safety technical services. Full story »

The Practical Arrangements were signed by Mr Denis Flory, the Deputy Director General of the IAEA and Mr Viacheslav Pershukov, Deputy CEO for Innovation Management, ROSATOM on 14th September 2015 on the sidelines of the 59th General Conference of the IAEA in Vienna. The objectives of these Practical Arrangements are to set forth the framework for non-exclusive cooperation between the IAEA and ROSATOM... Full story »

The IAEA Director General's Report on the Fukushima Daiichi Accident, along with five technical volumes on this topic, have just been publicly released. The report assesses the causes and consequences of the 11 March 2011 accident at the Fukushima Daiichi Nuclear Power Plant in Japan, triggered by a tsunami that followed a massive earthquake. The report includes part on the Protection of the Emergency Workers. Full story »

Since the 5th EAN Workshop in 2001, industrial radiography has remained an area of concern in radiation protection, due to the levels of radiation exposure received and, in particular, the number and magnitude of accidental exposures. Consequently, EAN has decided to reopen this topic and organize the 16th EAN Workshop in Berne, Switzerland. Full story »

The European Radiation Dosimetry Group (EURADOS) has established the rules and requirements for the selection of young scientists to receive awards that will be offered annually during the EURADOS General Assembly. The winner is expected at the EURADOS Annual Meeting (usually held in February) to present a short report. The candidates can send their application form to the EURADOS Office. Full story »

A video introducing the occupational radiation field, principles of radiation protection including ALARA, and the IAEA Occupational Radiation Protection Unit's activities has been released. The film provides information about the IAEA-specific actions in protecting people working in nuclear energy, nuclear medicine, radiotherapy, mining, and industrial radiograpy. Full story »

The Practical Arrangements were signed by Mr Denis Flory, the Deputy Director General of IAEA and Mr Carl-Magnus Larsson, the Chief Executive Officer of the Australian Radiation Protection & Nuclear Safety Agency (ARPANSA) on 4 June 2015 in Vienna. The objective of the Practical Arrangements establishes the framework for cooperation between the two parties to develop guidance material to support Safety Standards applicable to the uranium mining and uranium processing industry. Full story »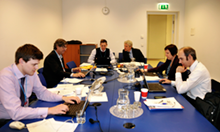 The Department of Nuclear Safety and Security of the IAEA is conducting several projects with funding from the European Commission under the Instrument for Nuclear Safety Cooperation (INSC). Under the two projects conducted by the Ocupational Radiation Protection Unit, the guidance material in protection for workers during the decommissioning of nuclear installations, together with TECDOCs on workplace monitoring, are being developed. Full story »

As a follow-up of the this year's celebration of the World Day for Safety and Health at Work, ILO has created an interactive SafeDay website with useful information including the role of each stakeholder, and detailed information on key aspects and trends on OSH. A national occupational safety and health culture is one in which the right to a safe and healthy working environment needs to be respected at all levels, where governments, employers and workers actively participate in securing a safe and healthy working environment. Full story »

Over the last decade EURADOS, through its Working Group 2, has been carrying out a programme of work on harmonisation of individual monitoring in Europe. EURADOS now has the pleasure of announcing the 2015 intercomparison (IC2015ext) for extremity dosemeters The 2015ext intercomparison concerns to extremity dosemeters intended to estimate Hp(0.07). The dosemeters may be of type ring, stall or wrist, designed to be worn on fingers, wrist or ankle, and are used routinely in individual monitoring of exposed workers. Full story »

The University of Turin, Italy, in partnership with the International Training Centre (ITC) of the ILO, is offering a Master course in Occupational Safety and Health (OSH). This one-year programme, to be held in English, includes an Internet-based distance learning phase, a face-to-face residential period on the ITC-ILO's campus in Turin followed by another distance phase for the preparation of the dissertation. The training focuses not only on OSH issues but also on the development of organizational, managerial and interpersonal skills. Full story »

A joint ISOE / CPD topical session on decommi-ssioning was organized on 5 November 2014 to discuss a proposal to establish of a new joint working group with the primary objective to discuss trends and areas that need to be studied further. As an outcome, the ISOE Management Board approved the establishment of an ISOE working group on radiological protection aspects of decommissioning/dismantling activities in nuclear power plants to be addressed in the coming years. The objective of the Working Group is...Full story »

The Brazilian ISOE National Coordination Centre as a member of the ISOE IAEA Technical Centre with the support of ELETRONUCLEAR organized in collaboration with the Institute of Radiation Protection and Dosimetry (IRD) and the Brazilian Radiological Protection Society (SBPR), the 2015 ISOE International ALARA Symposium on Occupational Exposure Management at Nuclear Facilities. The Symposium will be held at the facilities of the IRD, Rio de Janeiro, Brazil, from 26 to 28 May 2015. Full story »

The Strategic Agenda of the European ALARA Network (EAN) for the 2015 - 2020 period has been elaborated by the Members in 2014 and has now been published. The Agenda reminds the general objectives of EAN and presents the objectives of the Network for the period and the work programme to fulfil it. EAN was a "first-of-its-kind network" and its structure and management has since inspired several other networks The Strategic Agenda is an opportunity to revisit the EAN model, the position, role and activities...Full story »

A regional training course on 'Reducing the Risks from Indoor and Occupational Exposure to Radon: Establishing a National Radon Strategy' was hosted by the Nuclear Regulatory Authority in Buenos Aires, Argentina, from 4 to 6 November 2014. Twenty-eight participants from regulatory bodies, research centres and Ministries of Health from 14 Member States (Argentina, Bolivia, Brazil, Cuba, Dominican Republic, Ecuador, Guatemala, Jamaica, Mexico,...Full story »

Protecting medical workers and those exposed to naturally occurring radiation, such as air crew and miners, is the next frontier in occupational radiation protection, participants of a conference on the subject in Vienna learned last week. "The international safety framework for protecting workers is well established and effective. However, implementation of some of these recommendations in some areas, such as medicine and work involving exposure to elevated levels...Full story »

A regional training course on Radiation Protection in the Oil and Gas Industry took place in Abu Dhabi, United Arab Emirates, from 19-23 October 2014. Altogether, 16 participants from 11 Member States in the Asia and the Pacific region attended the course. The participants were from the following Member States: Bangladesh, Indonesia, Islamic Republic of Iran, Kuwait, Malaysia, Mongolia, Oman, Philippines, Sri Lanka, Thailand, and United Arab Emirates. Full story »

The Regional Meeting on Status of Occupational Radiation Protection in Asia and the Pacific Region (RAS9064) was held on 13 - 17 October 2014 in Kathmandhu, Nepal. The meeting was hosted by the Ministry of Science Technology and Environment (MOSTE). Two IAEA staff, one external expert, fifteen participants from Member States and nine persons from Nepal participated in the meeting. The objective of the meeting was to evaluate the current situation on occupational radiation...Full story »

A technical meeting on occupational radiation protection during the decommissioning of nuclear power plants and research reactors was held at the IAEA headquarters, from 29 September to 2 October 2014. The meeting was aimed at authorities, holding responsibility for regulatory control of occupational radiation protection at nuclear facilities. The purpose was to identify and propose guidance that may be needed in managing the protection of workers against ionizing radiation during decommissioning,...Full story »

A Training Course on Performing Assessments under the IAEA's Occupational Radiation Protection Appraisal Service (ORPAS) was held during 7-9 July 2014 at the IAEA headquarters in Vienna, Austria. ORPAS is a peer review service provided by the IAEA upon request of the Member States. The targets for the ORPAS are the end users and services providers in the Member States. The service was initiated in 2001 and to date several such services have been provided to the Member States. Full story »
IAEA Special Session on the new BSS in the AOCRP4 Congress (Regional IRPA congress), Kuala Lumpur, May 12-16, 2014

The Asian and Oceanic Congress on Radiation Protection is a congress of the radiation protection professionals and researchers under the regional association of the International Radiation Protection Association (IRPA). The fourth congress has been held in Kuala Lumpur, Malaysia during May 12–16, 2014 hosted by the Malaysian Radiation Protection Association (MARPA). Nearly 300 participants from over 34 countries worldwide attended the conference. Full story »

The IAEA held an International Conference on Occupational Radiation Protection at its Headquarters in Vienna, Austria from 1 to 5 December 2014. The purpose of the conference was to provide a forum for occupational radiation protection specialists to review advances, challenges and opportunities in the field since the first IAEA international conference on this topic, held in Geneva, Switzerland, in 2002. It was also provide an opportunity for all the stakeholders involved in occupational radiation protection to exchange information and experience. Full story »

The draft safety guide (DS453) is prepared based on the revised International Basic Safety Standards (GSR Part 3). It combines all the relevant safety guides on the protection of workers into a single comprehensive safety guide. The existing guidance includes the following Safety Guides: RS-G-1.1 Occupational Radiation Protection (1999); RS-G-1.2 Assessment of Occupational Exposure due to Intakes of Radionuclides (1999); RS-G-1.3 Assessment of Occupational Exposure due to External Sources of Radiation (1999);...Full story »

A technical meeting to promote a National Dose Registry in non-established Member States was held successfully in Vienna International Centre in Vienna, Austria on 2-4 April 2014. The technical session covered problems at the time of the establishment and the present operation form in the established member states, current status of National Dose Registry in the non-established member states, action report concerning personal dose management from the IAEA, and group discussion on issues concerning establishment of National dose registry. Full story »

The Department of Nuclear Safety and Security of the IAEA is conducting several projects with funding from the European Commission under the Instrument for Nuclear Safety Cooperation (INSC). These projects are implemented by the IAEA under its approved Regular Programme with supplementary funding by the European Commission. Two projects are conducted by the Ocupational Radiation Protection Unit: Occupational Radiation Protection and Risk Management for NPPs, and Strengthening Occupational Radiation Protection at Future Intensified Activities to Improve Safety within Nuclear Facilities. Full story »

The Regional Meeting on New Technologies for Individual Monitoring and the Results for Inter-comparison Exercise was held in CNRP, Salé, Morocco, 25-29 November 2013. The meeting was an activity under the regional project of IAEA Technical Cooperation programme, RAF9043 "Strengthening the Transfer of Experience Related to Occupational Radiation Protection of the Nuclear Industry and Other Applications Involving Ionizing Radiation". The local organizer of the regional meeting was Centre National de Ratioprotection (CNRP). Full story »

The symposium was the Seventh in a series starting in the Netherlands in 1997, followed by Germany in 1998, Belgium in 2001, Poland in 2004, Spain in 2007 and Morocco in 2010. As part of Agency's initiative to bring the symposium towards a more internationally-orientated platform, begun from Europe, entering to Africa and now in Asia - the Beijing venue was more appropriate in the context of the presence of large industry sectors such as rare earths and coal mining involving NORM. Full story »

Regional workshop on assessment of occupational exposures due to intakes of radionuclides held in in Kajang, Malaysia under the Technical cooperation programme in Asia-Pacific region in cooperation with the Government of Malaysia through Nuclear Malaysia. The purpose of the Regional Workshop was to provide the participants from Asia-Pacific region with the basic knowledge and practical skills essential for the implementation of the relevant IAEA Safety Standards and to familiarise principles, concepts, methods and equipment used for dose assessment of exposure due to intakes of radionuclides...Full story »

Training Course on 'Quality Management in the Provision of External Radiation Services' was organized by Ghana Atomic Energy Commission (GAEC), Accra from 3 to 7 September 2012. The training course aimed at individuals with radiation protection responsibilities in the provision of technical services with main emphasis on individual monitoring programmes. Full story »

NORM (Naturally Occurring Radioactive Material) Symposia Series is one of the conferences cooperated by the IAEA and has been organising every three years in the recent past. This conference series had begun from Europe and now moving to other parts of the world for harmonization of radiation protection in industries and work activities related to naturally occurring radioactive materials. The first symposium in the series, was held in Amsterdam in 1997. The second in the series (NORM II) was held in 1998 in Krefeld, Germany...Full story »

National workshop on NORM in Oil and Gas Industry in Doha, Qatar was successfully completed. 48 participants representing different stakeholders in Qatar, such as Ministry of Environment (Regulator), Qatar Petroleum, Qatar Gas, Qatar Steel, HSE Regulations and Enforcement Directorate, and several Oil companies, Analytical laboratories and two IAEA staff attended the meeting. Full story »

According to the IAEA's Radiation Safety Regulation, a testing laboratory should provide independent radiation protection services for IAEA's operations as a radiation monitoring and protection service provider. The services, under the Radiation Safety and Monitoring Section, covers both individual monitoring for IAEA staff or experts and operational radiation protection for IAEA facilities. To keep the service with high quality. Full story »

Radiation Protection and Safety of Radiation Sources: International Basic Safety Standards (INTERIM EDITION) is availble in all official languages from the following link.
International Basic Safety Standards (BSS) (INTERIM EDITION) »

Report is available from the following links.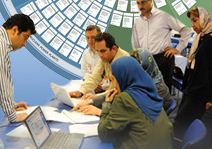 More information is available at the following link.

Recent publishcation in the Occupational Radiation Protection can be freely downloaded from the following links.

Seven posters in the radiation application subject areas of Diagnostic Radiology, Industrial Irradiators, Industrial Radiography, Nuclear Gauges, Nuclear Medicine, Radioactive Tracers and Radiotherapy related to Radiation Protection of Workers have been approved for publication on May 3rd , 2011 by the International Atomic Energy Agency. It is a kind of publicity material for the targeted groups of workers. The posters are being published in the forms of hardcopy and electronic version on the website.

Briefing Note on Radiation Safety and Protection of Workers in Nuclear and Radiological Emergency Operations.
Information Note on Radiation protection of workers.

Useful Information links on occupational radiation protecion based Fukushima accident in Japan »