Frequently asked questions on ALARA
The ALARA approach should be implemented regardless of individual and collective dose levels, although resources for any ALARA study to identify dose reduction options should be adapted to the expected level of doses received.
For example, for a job where the collective dose is a few man.μSv, common sense should prevail and normal good practices in the area of radiation protection should be implemented. The workers involved, thanks to an effective safety culture including radiation protection and the workers professionalism, should apply good practices to ensure they receive the lowest possible dose.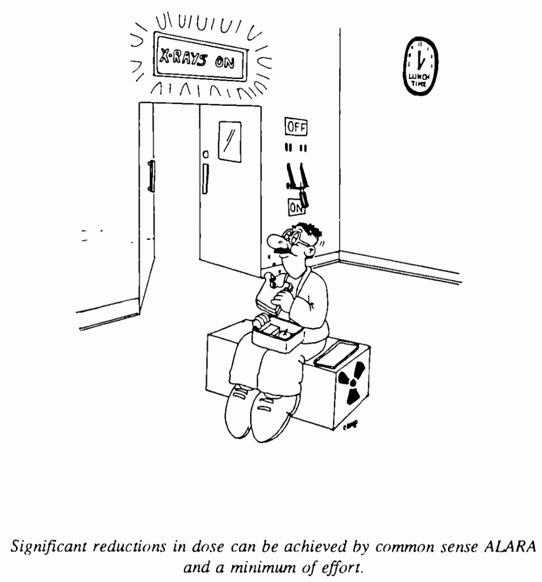 At the other end of the scale there may be situations involving collective doses of hundreds of man.mSv and where individual doses may exceed 10 or even 15 mSv per year. These may be found in the case of renovating or dismantling a facility in the nuclear, industrial, medical or research sectors, or during the operation of certain interventional radiology workstations, etc., In such cases an ALARA study would be appropriate, and this study might involve several man-weeks or man-months of effort.
The ALARA approach represents the commitment of the various stakeholders to ALARA. To achieve the ALARA approach, the licensee in compliance with national regulations and the licensee`s internal regulations should establish specific procedures. The ALARA approach should also take into account conventional safety considerations.
These procedures must take into account the operating conditions, available resources and the culture of radiation protection specific to the licensee or to the site. They must be known by the authorities and workers and discussed with these partners within the framework of radiation protection and labor regulations in force in the country in question.
The ALARA approach applies regardless of the level of exposure. Nonetheless, the time-scale and the sophistication of the procedures should be aligned with the type and quantities of individual and collective doses at the site. Dosimetric criteria (individual and/or collective dose levels and/or dose rate and/or the frequency of a task, etc.) are often taken into account in deciding on how formalize the procedures.
Yes, according to ICRP 103 and the new BSS it is clear that ALARA should be applied to all these workers in the same manner as for the other workers from the nuclear, medical and research areas.
An ALARA approach may indentify the need for an ALARA study of a specific situation. The study may include the following steps (see also European Commission: "ALARA from theory to practice", report EUR 13796, 1991)
Define the problem
Make a preliminary analysis of the type and level of doses
Define the radiation protection options
Quantify, where possible, the impact of these options in terms of cost, dose, time, etc. For some factors a qualitative assessment may be necessary
Compare the options
Make a sensitivity analysis
Select and implement an optimized solution.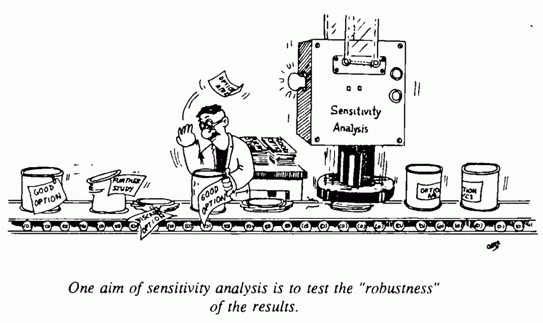 Yes: to test how robust the results are in light of possible variations in the scenarios implemented. This problem can be tackled in two ways:
Either by providing realistic margins for variation in each scenario (dose rates, length of exposure, costs, the reference monetary value of the man.Sievert, etc.), or by asking what the maximum variation is for each scenario that will ensure that the solution implemented remains optimal.
A dose objective is called an ALARA dose objective when it is the result of an ALARA study (see also question 29): i.e. it is derived from a well-supported choice from among the possible radiation protection alternatives and options for a set of tasks or all the operations for a given site, workstation, workshop, laboratory, or healthcare department (collective and individual doses). There may be an initial major ALARA study followed for subsequent tasks/years with refinements of the ALARA dose objective on the basis of experience and feedback.
It represents a level of dose that should be attainable. It is important that there is an ongoing comparison with what is achieved in practice and that feedback is provided for subsequent review of the acceptability of the ALARA dose objectives.
No, the dose limit is an annual individual dose established by the national regulatory agency above which workers should not be exposed. A dose constraint is an annual individual dose lower than the dose limit, and is established by the ongoing, iterative process of optimization. Exceeding a dose constraint should not represent a regulatory infraction, but could result in the implementation of follow-up actions.
For occupational exposure, a dose constraint serves as an upper boundary for the range of options in optimization. A protection strategy is planned so that doses do not exceed the applicable dose constraint. After the exposures have occurred, the dose constraint may be used as a benchmark when assessing the suitability of the optimized protection strategy that has been implemented and for making adjustments as considered necessary. In certain situations, radiation exposure may not be the only or dominant workplace risk and the setting of dose constraints should be seen as part of a total risk management regime.
Annual dose constraints between 1-20 mSv should be used for occupational exposures. Dose constraints for a specific planned exposure situation should be decided on a case-by-case basis. A process of generic optimisation that takes into account national or regional attributes may establish the specific value for the constraint and preferences together, where appropriate, with a consideration of international guidance and good practices in similar work places.
In large industries, dose constraints may be set up by the management and appear as a managerial tool; in other industries or in the medical and research sectors, they may be proposed by the regulatory bodies in negotiation with the concerned stakeholders.
It must also be realised that dose constraints do not represent a demarcation between "safe" and "dangerous" or reflect a step change in the associated health risk for individuals.
It all depends on what is meant by the word "objective":
If the objective reflects a simple predicted dose, entailing no optimization, that is not the same thing as implementing ALARA (see also questions 29 and 31)
If the objective, in terms of collective or individual doses, is determined by a licensee purely as a matter of policy with regard to everyone that works at its sites, this rather implies objectives related to a "continuous improvement approach" than objectives resulting from application of the ALARA approach.
If the objective complies with the definition given in question 31, then it is PART of an ALARA approach.
Not necessarily. For example, applying a dose constraint of 0.5 mSv/day does not mean that optimization has been implemented.
This type of dose constraint is often estimated on the basis of the regulatory limits or of "managerial policy" objectives applied by the licensee. It is related to a system of limiting and managing individual exposure, not to optimization, although it must be factored into optimization. Optimization must not result in non-compliance with these constraints.
If all that has been done is to predict the individual and collective doses, without examining any possible radiation protection alternatives and options, i.e. without optimizing radiation protection, then the ALARA approach has not been fully implemented.
No, but it is a tool; a very useful tool, to monitor what is being achieved.
Some dosimetry systems only provide data on individual doses over a standard period. This is often necessary for regulatory purposes on controlling individual doses. However in an ALARA approach, it is essential to be able to relate the doses measured with the tasks performed, and the place where they are performed etc. The objective here is to be able to answer the following questions: Where, When, How, and by Whom, are the doses being received? This often requires a real time dosimetry system.
No. ALARA does require personnel management, enabling the different workers to be assigned to different tasks in a fair and equitable manner, but that is not enough for an ALARA approach, since it does not entail a study aimed at reducing the total collective dose.
Integrating fair treatment in the ALARA approach entails a study on ways to reduce collective and individual exposure, aimed primarily at the highest levels of exposure. This approach implies choosing radiation protection options.
Drawing up an area classification is an essential and required component of any effective radiation protection process, but it is not a component of the ALARA approach. Area classification is used in determining the training, information and monitoring requirements that should be taken. The classification of an area depends on the risks of exposure likely to be encountered by certain workers in the area in question. The international BSS confers responsibility for defining these levels of risk to the national authorities. European Directive No. 96/29 links area classification directly to the possibility of exceeding the effective dose of 1 mSv in a year (limit for the public) or 1/10 of the equivalent dose limit for workers (Article 18, Section 1). Area classification is part of a process of "limitation". Area classification absolutely does not provide any guarantee to the individual who works in a zone that his risk of exposure is kept as low as reasonably achievable, according to the amount of time spent in the zone and the nature of the work performed, etc.
In a case such as this, it is possible to try and group together similar or repetitive tasks, in order to plan common radiation protection measures. If some tasks can indeed be grouped together, and if the dose thereby becomes more significant, a formal ALARA study, as described in question 29, may be implemented. When this is not the case, common sense, radiation protection culture and good practices must prevail.
In this case, a generic ALARA study can be drawn up for the task. This study must be revised at regular intervals with feedback from experience. This is in particular the case in many medical applications.
There are two possibilities
The potential for intake of radioactive material is significant and likely to result in committed effective doses at much higher levels than the doses limits; e.g in some nuclear power sector operations. The procedure that should be followed in such cases is to reduce as far as possible any probability of such internal exposure occurring.
Secondly, there are situations in which possible internal contamination is expected on a routine basis (use or production of naturally occurring radioactive materials, such as phosphate, thorium and mineral sands, handling uranium during the upstream stages of the nuclear cycle, or exposure to tritium, etc.). In such situations, workers are subject to internal exposure in a more or less continuous (chronic) manner and, apart from a few exceptions, the doses are lower than the dose limits. In such cases, the ALARA principle must be applied.

More details on this question can be found at: (see Summary and recommendations of 3rd EAN Workshop Neuherberg, Germany, 1999 on "Managing Internal Exposures")
Yes, in a few cases. This situation can arise where there is the potential for the presence of relatively low levels of contamination in an environment where high dose rates exist, but in which work has to be carried out. Here measures used to reduce doses from one exposure route may cause the other to increase. An ALARA study needs to be carried out and a judgment made on which is the optimum approach.
This question involves examining what is meant by the concept of optimization when dealing with doses received to the extremities. To reply to this question, we need to look at the deterministic effects as well as at the stochastic effects.
An optimization procedure does not apply for deterministic effects as they are seen only above a certain threshold dose, and this threshold dose should be avoided in all cases.
In the case of stochastic effects, optimization can be implemented by focusing on the risk of cancer, which can only be estimated on the basis of the "whole body" effective dose. Doses received to the extremities therefore have to be aligned with the whole body doses. This is achieved by applying well-established calculation rules that take into account the radiosensitivity of each organ or tissue, in this case, of the skin.
For example:
Supposing that an individual receives a dose of 500 mSv to the extremities (dose limit to the extremities). Given the weighting factor (wT) for the skin of 0.01, and the fact the hands account for only 5% of total skin surface (therefore, no dose is received by 95% of the skin), the 500 mSv delivered to the extremities represents a whole body effective dose of [(500 x 0.05) (0 x 0.95)] x 0.01 = 0.25 mSv. Thus, even if a worker reaches the dose limit to the extremities every year for 5 years, the corresponding total effective dose will only be 1.25 mSv, which is well below the 100 mSv in 5 years effective dose limit.
In reality, doses received to the hands are usually much lower than the 500 mSv per year dose limit, but the ALARA approach may still be applied.
The reason can be found looking back over the last century. After the First World War, ILO was established in 1919 to promote decent treatment of working people. Most countries have set up Labour Ministries or their equivalent and have regulations covering all occupational conditions. However, after the Second World War and the atomic bomb, the IAEA was set up as the world`s "Atoms for Peace" organization in 1957 within the United Nations organization. Adapting the ICRP recommendations (see questions 6 and 7), the IAEA issues the international Basic Safety Standards for ionizing radiation. Since then, most countries have set up specific regulatory bodies dealing with nuclear safety and radiation protection. Therefore in most countries occupational radiation risk is regulated through specific regulations. However both at the international and national levels it is expected that both regulations and work places should be harmonized in terms of occupational risk management.
This is a very real problem. At the moment, there is no general risk scale that can be used to compare stochastic and deterministic risks, threshold and non-threshold risks, immediate risks, delayed risks, radiation and non-radiation risks. However, radiation risks should not be given priority over other types of risk (conventional accidents, for example). International organizations (IAEA, ILO and the WHO) recommend implementing a general and coherent risk management approach.
In practice, in places where there exist both radiation risk and other risks one has to take care of avoiding conflicts and reinforce coherence, complementarities and synergies between different risk management. This implies interactions between all the concerned stakeholders including health physicists staff and other occupational health specialists), as well as an exchange of principles and good practices.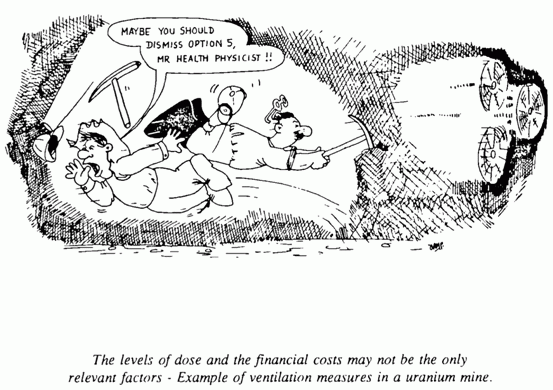 More details on this question can be found in:
All presentations from EAN Workshop Antwerp, Belgium, November 2000 on "Management of Occupational Radiological and Non-radiological Risks: Lessons to be Learned".
Presentations from EAN 10th Workshop, Prague, Czech Republic, 2006 on "Experience and new Developments in implementing ALARA" in particular session 2.