Frequently asked questions on ALARA
Part 2: Scientific and regulatory background
2. The radiation protection system
3. Health effects of ionizing radiation
4. Absorbed dose, equivalent dose and effective dose
UNSCEAR is the United Nations' Scientific Committee on the Effects of Atomic Radiation, which carries out a 4-yearly review on exposure and scientific knowledge regarding the health effects of ionizing radiation. The ICRP uses the UNSCEAR data (among others) to formulate its recommendations.
This is the International Commission on Radiological Protection. This Non-Governmental Organization issues recommendations regarding the management of radiation risks, based on scientific data.
These principles are:
Justification of practices
Optimization of radiological protection (ALARA)
Limiting individual exposure.
Some countries derive their regulations directly from the ICRP recommendations, others through the IAEA BSS or other national guidelines, but all include an ALARA requirement.
Any human activity that results in exposure, for example a planned exposure situation or existing exposure situation will be considered justified if the expected advantages of this activity to an individual or to society outweigh the disadvantages related to the radiation-induced effects on health.
In most cases, declaring a planned exposure situation justified is the result of a social and political decision at a national level. It is occasionally implicit, in every country in the world, the use of ionizing radiation for the purposes of medical diagnosis is seen as justified and is not questioned. Sometimes, its use is challenged and debated - this is the case of nuclear power production.
In the medical field, there are two additional levels of justification:
Generic justification of a procedure resulting from a decision by the professional medical body, made by comparing the procedure with possible alternatives.
Justification of every treatment procedure for which the medical practitioner is responsible, depending on the characteristics of the patient.
Up until the end of the 20th century, there were only a few human activities that were expressly defined as unjustified under certain national regulations. Examples are the use of radioactive materials in lightning conductors, sources in children's toys and cosmetics, etc. At the end of the 1990s, many countries published comprehensive lists of unjustified activities and have established very clear regulatory procedures for deciding whether or not a new practice is justified, or even for re-examining the justification for existing practices at regular intervals.
More details on this question can be found at:
EAN Workshop No.10: Justification and optimisation in radiation protection: which one is first? M. Bourguignon (DGSNR)
EAN newsletter November 2006: The implementation of the European Directives 96/29 and 97/43.
By definition, an unjustified practice must not be implemented; so optimizing it is not applicable.
The two terms are perfectly synonymous in ICRP and IAEA documents. They are used interchangeably without distinction.
The First objective is to achieve an appropriate balance between the efficient use of protection resources and the risks associated with radiation exposure.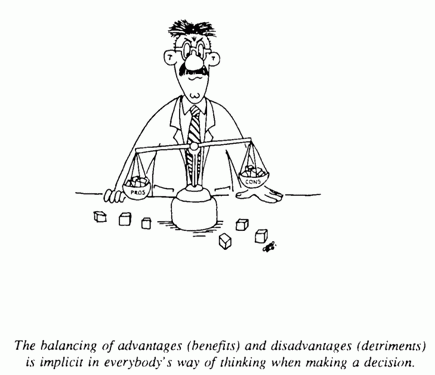 The second objective is to ensure equity:
Ensuring that any risk is evenly and acceptably distributed (equity regarding dose distribution among populations), and making it a priority to reduce the highest individual levels of exposure (equity in individual dose distribution).
In the case of a nuclear, industrial or medical licensee that subcontracts workers, equity implies the equal treatment of its own workers together with those from the subcontractor companies.
Complying with the effective dose limit not only ensures that the risk of developing radiation-induced cancer is kept at an acceptable level, but also ensures that the individual will not develop deterministic effects (see also Question 14 and Question 15).
The ICRP considers that workers exposed to ionizing radiation throughout their entire working lives should not be at any greater risk than the risks met by workers in the safest industries. To achieve this objective, the dose limit for workers proposed by the ICRP, since its publication 60 in 1990, was established as 100 mSv over 5 years (i.e. an average of 20 mSv per year). However many national regulations establish an annual effective dose of 20 mSv.
In most cases, if the annual effective dose limit (whole body dose) were to be reached following irradiation to a single organ, the dose to the organ would be significantly lower than the threshold at which deterministic effects for that organ would appear.
However, applying the same logic to the skin or to the eye lens shows that respecting the whole body effective dose limit is not sufficient to avoid the appearance of skin erythema or cataracts, etc. It was therefore necessary to propose specific dose limits to these parts of the body to ensure that people exposed will not develop deterministic effects to these organs: 500 mSv for the skin and the extremities, and 150 mSv for the eye lens for occupationally exposed workers.
Whilst dose limits establish a clear regulatory requirement, not exceeding the dose limits is not enough, the residual doses have to be maintained ALARA.
A deterministic effect is a health effect that requires a specific level of exposure to ionizing radiation before it can occur, but this level is not exactly the same for all people; it also depends on the individual's radiosensitivity.
For example, a dose to the eye lens of 2 Gy is the minimum dose, which will produce a radiation-induced cataract over a short period of time. This means that the most highly radiosensitive people will develop a cataract if they receive a dose of 2 Gy to the eye lens. However, above 10 Gy, everyone will develop a cataract.
This is a health effect, for example cancer, which randomly occurs following exposure to ionizing radiation, with the probability of occurrence being proportional to the dose. When many individuals are exposed to ionizing radiation, there is no way of predicting who will develop cancer, nor of knowing whether or not a person who is suffering from cancer developed it due to ionizing radiation.
Yes, for exposures above 100 mSv received within a very short period (less than 2 days).
No, for exposure below 100 mSv. However, as a precautionary approach, it is considered that any dose may give rise to a stochastic effect. It is assumed that there is a linear (straight line slope) relationship between dose and stochastic effects.
Yes. There is an on-going significant body of work to review epidemiological data of exposed populations (see UNSCEAR and also BEIR VII). Between the 1960s and the present date, the dose which represents the detection limit for stochastic heath effects has been reduced by a factor of 10.
No. It is thought that at low doses the probability of developing a radiation-induced cancer for a dose accumulated over a long period (chronic exposure) is half that for the same dose received within a very short period. (acute exposure).
The table below groups together the probability coefficients defined by the ICRP in Publication 103 (2007) for stochastic effects at low doses:

| | | | |
| --- | --- | --- | --- |
| | Cancer | Serious hereditary effects | Total |
| Workers | 4.1 x 10-2 Sv-1 | 0.1 x 10-2 Sv-1 | 4.2 x 10-2 Sv-1 |
| General public | 5.5 x 10-2 Sv-1 | 0.2 x 10-2 Sv-1 | 5.7 x 10-2 Sv-1 |
These are average coefficients. In reality, the situation is more complex since probability coefficients vary according to age, sex and the population group in question, among other factors.
iThe basic quantity is the Absorbed Dose. This is a measure of the amount of energy, measured in Joules (J) deposited in an organ of mass given in kilograms (kg). The unit of Absorbed Dose is the Gray (Gy), which equals 1 J/kg. For most types of radiation commonly encountered, e.g. X-rays, gamma-rays and beta particles, the absorbed dose is primarily the amount of energy absorbed by the organ that is relevant to organ damage as seen in deterministic effects. Thus the unit of Absorbed dose (Gy) is used in such circumstances.
However there are some types of radiation, e.g. neutrons, protons and alpha particles, that because of the way they deposit their energy, cause more damage (up to a factor of 20) per unit of Absorbed Dose. To take this into account, another quantity is required, the Equivalent Dose in Sievert (Sv). This is equal to the Absorbed Dose multiplied by a radiation weighting factor, WR, (see table below).
The Equivalent Dose is used to measure the doses in particular organs. However this does not allow one to compare the risks of stochastic effects (see Question 18) associated with say the exposure of a small area of the body with exposure of the whole of the body. Here one also has to take into account the facts that:
some tissues are more sensitive than others to the effects of radiation exposure, and
different Equivalent Doses in different organs may often occur.
These factors are taken into account by using a mathematical model that assigns a tissue weighting factor, WT (see table below), to the organs of the body; and requires the products of the Equivalent Doses and Tissue weighting factors to be summed across the body. The result is then calledthe Effective Dose, also with the unit of the Sievert (Sv)
The relationship between these dose quantities is shown in the diagram below.

The values of wR (no unit) depend on the type of radiation and are given in the table below (the greater the value of wR, the more harmful the radiation).
| | |
| --- | --- |
| Type of radiation | Value of wR |
| X-rays | 1 |
| γ rays | 1 |
| β particles | 1 |
| Neutrons | 2.5 to 20 (continuous curve depending on radiation energy) |
| Charged protons and pions | 2 |
| α particles | 20 |
(source :ICRP 103, Annals of the ICRP, Volume 37, p 272)
wT is the tissue-weighting factor representing the radiosensitivity of the exposed tissue or organ, T, (no unit).
Tissue or organ
Tissue-weighting factor, WT

Bone marrow (red) 
Colon 
Lung 
Stomach 
Breast 
Gonads 
Bladder 
Liver 
Esophagus 
Thyroid 
Skin 
Bone surface 
Salivary gland 
Brain 
Sum of remainder tissues or organs

0.12
0.12
0.12
0.12
0.12
0.08
0.04
0.04
0.04
0.04
0.01
0.01
0.01
0.01
0.12
The sum of wT is equal to 1. (source: ICRP 103, Annals of the ICRP, Volume 37, pp1-332, 2007)
Given that the relation between dose and effect is linear (a person that receives an effective dose twice as great as that received by another person will be twice as likely to develop a radiation-induced stochastic effect), calculating the sum of individual doses is meaningful: it means we can determine a total dose known as the collective dose, which corresponds to what is known as the health detriment, equal to the sum of individual probabilities of developing a stochastic effect.
The collective dose is expressed in terms of man.Sievert (man.Sv).