Working Group on Industrial Radiography (WGIR)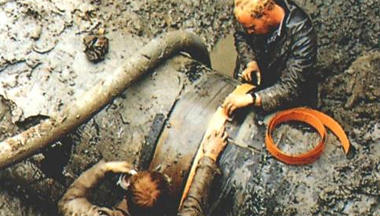 Mandate of the WGIR
To draw an overview picture of the situation concerning occupational exposures and radiation protection of staff in Industrial Radiography (radiographers and other industry and client staff members) all over the world.
To identify both good practices and shortcomings and define all types of actions (including training, managerial, behavioural) to be implemented for assisting the industry, clients, and regulatory bodies in avoiding exposures to accidents, and in implementing the principle of optimization of protection.
To propose recommendations for harmonising monitoring procedures.
To set up a system for regularly collecting occupational doses for these individuals and for reporting incidents, and for dissemination of this information.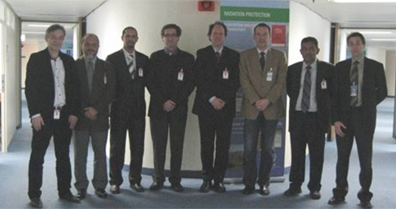 ISEMIR Working Group on Industrial Radiography (WGIR)
Christian Lefaure, Francisco Da Silva, Kamal Sahaimi, Gonzague Abela, Richard Van Sonsbeek, Mattias Purschke, Razak Hamzah, John Le Heron. Absent: Tom Levey
Road Map
The "road map" is a software tool that enables NDT companies to assess their own performance in radiation protection against accepted practice. A NDT company answers the questions in the road map, based on current practice in their company. The response to each question is then scored by comparing it with a measure of good practice. Different weightings are applied to questions, depending on their relative importance. The scores are summed and the results presented to the user, including a graphical schematic that gives a quick visual overview of how the NDT company compares with current good practice. Areas that have been identified as being below par could then be addressed by the NDT company to improve occupational radiation protection in their facility.

Survey on Occupational Radiation Protection in Industrial Radiography
A world-wide survey of occupational radiation protection in industrial radiography was performed over a period of about one year, from mid-2010 to mid-2011. There were 3 separate questionnaires, addressed to each of individual industrial radiographers (operators), Non-Destructive Testing companies, and Regulatory Bodies for radiation protection.Responses were received from 432 industrial radiographers, 95 NDT companies, and 59 regulatory bodies, and these provided a large amount of information on the current practice of radiation protection in industrial radiography. The survey results indicated that there is a need for improved implementation of the radiation protection principle of optimization of protection and safety. A summary of the survey report is available in several languages and the full report with appendices in English only (see links below).
The results from the survey have been used to design the ISEMIR-IR international database (see below), and to develop a "road map" tool that enables NDT companies to assess their own performance in radiation protection against accepted practice (see above).
Survey executive summary:
English
Chinese
French
German
Portuguese
Spanish
Survey full report (English only):
The questionnaires used in the survey: [for download]
Operator Questionnaire:
English
Chinese
Dutch
French
German
Portuguese
Russian
Spanish
Company Questionnaire:
English
Chinese
French
German
Portuguese
Russian
Spanish
Regulatory Body Questionnaire:
ISEMIR-IR
ISEMIR-IR is an international database being developed to provide a tool that can be used by NDT companies to improve their implementation of optimization in occupational radiation protection in industrial radiography. For each participating NDT company, the database will contain anonymized data on individual industrial radiographers, including their occupational doses, radiographic workloads, level of NDT training, radiation protection training, sources used, percentage of site radiography, use of collimators and survey meters, and number of incidents. The metric for assessing optimization of radiation protection will be occupational dose per radiographic exposure. NDT facilities will be able to benchmark their own facility and individual radiographers' performances against global or regional data. In time the database will also have a module devoted to incidents – accidents, near misses and deviations from normal – and will provide information, examples and analyses that should lead to a reduction in the occurrence of incidents in industrial radiography.
The ISEMIR-IR database is being developed in stages, as resources permit.
Once available, NDT facilities all around the world will be encouraged to actively participate in the database to enable it to become a viable tool for implementing optimization of occupational radiation protection.